We've excited to have Frozen Crown and Athanasia joining us on our European shows in Feb 2020! Check them out!
Frozen Crown (special guest)
Frozen Crown is a female fronted Power Metal band infused with Classic Heavy Metal and Melodic Death Metal vibes. Their single "Neverending" has currently over 3 Million views on YouTube, adding up to a total of 10 Million for all the 6 singles the band has released so far.
During its short lifespan, Frozen Crown played two European tours, one Japanese headlining tour and several shows throughout Europe including Sabaton Open Air and Metal Fest Plzen, sharing the stages with bands like Sabaton, Amon Amarth, Arch Enemy, Stratovarius and more.
Facebook: https://www.facebook.com/frozencrownofficial
Instagram: https://www.instagram.com/frozencrownofficial
Twitter: https://twitter.com/frozencrownband
Athanasia (guest/opener)
Athanasia is a power trio playing a highly original hybrid of classic and modern heavy metal, consisting of singer/guitarist Caleb Bingham (Ex- FIVE FINGER DEATH PUNCH), bassist Brandon Miller, and veteran drummer Jason West (Ex-MURDERDOLLS/WEDNESDAY 13). Their debut LP "The Order of the Silver Compass" combines anthemic stadium metal hooks with elements of bay area thrash and Scandinavian black metal styles.
Official Site: http://www.athanasia.se
Facebook: https://www.facebook.com/athanasiametal
Instagram: https://www.instagram.com/athanasiametal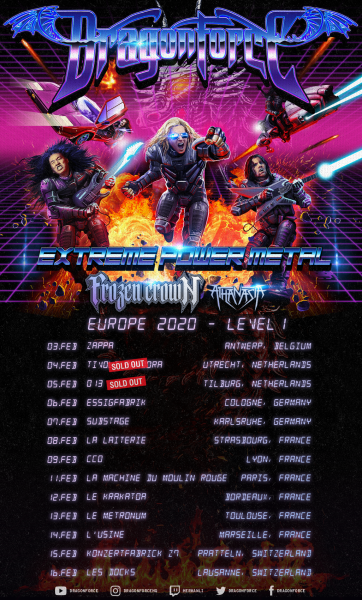 ---