Lovebites will be joining us as special guests along with McRocklin & Hutch on our UK tour this November!
Tickets / VIP upgrades
🤘🙃🤘🇬🇧🏠🎸🔥🎸🎸🎸🎸
Here are some info about them: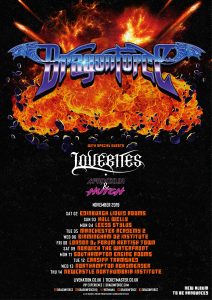 LOVEBITES is a Japanese all-female heavy metal band, formed in 2016. The band consists of Asami (vocals), Miho (bass), Haruna (drums), Midori (guitars) and Miyako (guitars/keyboard). The LOVEBITES sound owes a debt to the many great overseas heavy metal bands that have directly influenced their writing. Coupled with their own unique take on music, taking a piece from each member's eclectic background and experiences, everything has culminated into forging a truly formidable group.
LOVEBITES started working on their first EP at the end of 2016, joined by the amazing engineering team of Mikko Karmila and Mika Jussila from Finland who are known for their work with NIGHTWISH, CHILDREN OF BODOM and AMORPHIS to name but a few. "The LOVEBITES EP" was the end product of those sessions, which was released in mid-2017. In October 2017 they released their first full album, "Awakening From Abyss". In the aftermath of the release of "Awakening From Abyss" in October 2017 through Europe and North America; Asami, Haruna, Midori, Miho and Miyako performed their first overseas live shows in London.
On the heels of this success, in June 2018 they won the Best New Band award at the Golden Gods Awards held by the UK music magazine Metal Hammer, being the very first Japanese band to pull this off.
LOVEBITES released their second mini album "Battle Against Damnation" that same month, taking it on the road with them to the world's biggest metal festival Wacken Open Air in Germany, where they drove a crowd of over 10,000 people into frenzy before appearing on the main stage at the UK's Bloodstock Open Air headlined by JUDAS PRIEST. Their first European tour, including stops in the Netherlands, Germany, France and the UK is set for this November. Their long-awaited 2nd full album "Clockwork Immortality" is slated for release in December.
In June 2019, the band played at UK's Download Festival, Belgium's Graspop Metal Meeting and Spain's Download Madrid. Right after returning to Japan, a Japanese tour supporting their first live Blu-ray/DVD/CD "Daughters of the Dawn – Live in Tokyo 2019" has started. At the EX Theater Roppongi show on July 12, the band revealed to release their 3rd full-length album in early 2020.
http://lovebites.jp/
https://twitter.com/lovebites_jp
https://www.facebook.com/LovebitesTheBand/
–
Thomas 'McRocklin' started playing the guitar at the age of 4!
By the time he was 7, he was already performing on stage, and was asked to open for Ozzy Osbourne in his hometown of Newcastle upon Tyne, when he just was 8 years old.
Managed by Peter Grant (Led Zeppelin) A string of TV appearances and magazine spreads then followed.
McRocklin went on to feature in Steve Vai's music video "The Audience is Listening" and Steve became a close friend and mentor to the young guitarist.  McRocklin was also featured in the Warner Bros documentary 'Legends of the Guitar' by Jeff 'Skunk' Baxter, at the age of 11, along with guitar greats such as David Gilmour, Tony Iommi, Eric Johnson and Mark Knopfler.
Soon after, McRocklin signed to Interscope Records as the youngest ever artist to be on their label, and the band Bad4Good (B4G) was formed around him. B4G released an album which was Produced by Steve Vai.
McRocklin's band then toured with Joe Satriani in the US and Canada. Around this time McRocklin also joined Zakk Wylde, Steve Lukather, Stu Hamm and others on stage for the Jason Becker Benefit concert.  
After returning to the UK McRocklin released his own solo album '91 – 95'. He then became more involved in the production side of music which later lead to becoming a mastering engineer and also fueled his interest in electronic genres of music. 
More than 20 years later, he is back on the guitar scene and has gathered a huge online following receiving over 30 million views on Instagram.
His band 'McRocklin & Hutch' fuses a New Retro Sound with acclaimed producer Tim Hutchinson, combined with McRocklin's insane melodic shred. 
Welcome to their sonic playground.
McRocklin Links:
www.mcrocklin.com
https://www.instagram.com/mcrocklin/
https://www.facebook.com/mcrocklin/
https://www.youtube.com/mcrocklin
McRocklin & Hutch links
https://www.instagram.com/mcrocklinhutch/
https://www.facebook.com/mcrocklinhutch/
---