DragonForce reveals details for new album, 'Extreme Power Metal'; launches video for first single, "Highway to Oblivion"; "Highway to Oblivion" to appear in AUDICA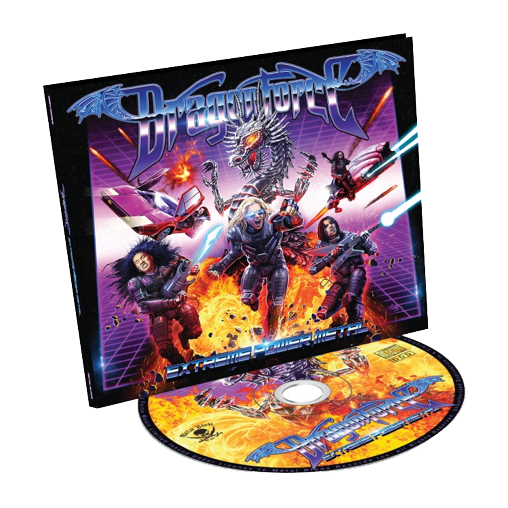 On September 27th, DragonForce will unleash their 8th full-length, Extreme Power Metal, worldwide. Produced in Los Angeles, California by Damien Rainaud at Mix Unlimited, Extreme Power Metal was also recorded, in part, on guitarist Herman Li's livestream channel on Twitch (www.twitch.tv/hermanli) with participation from the fans. For a first preview of the album, a video for the new single, "Highway to Oblivion", can be viewed at: https://youtu.be/Rn5CsAs798I
"Highway to Oblivion" will also appear today, July 30th, as a playable level in AUDICA (www.audicagame.com), a virtual reality "rhythm shooter" from Harmonix, the makers of Rock Band and Dance Central. Armed with a pair of rhythm blasters, players will be able to step into a cosmic arena and smash targets to the beat of the song. A standard edit of the song will be available as well as the intensely challenging full-length version. Clocking in at just under 7 minutes, the full-length version of "Highway to Oblivion" on Expert will be the most difficult song on the soundtrack to date. A flawless run with precise accuracy, timing, and form will earn players one of the coveted top spots on AUDICA's global leaderboards. For a preview of gameplay, follow Harmonix's Twitter and Facebook pages.
Pre-order Extreme Power Metal in the USA and Canada now at: https://metalblade.com/dragonforce/ – where the record is available in the following formats:
– Digipak-CD
– Transparent purple w/ black/red/blue smoke vinyl (limited to 700 copies)
– Transparent orange/red haze vinyl (limited to 300 copies)
* Exclusive bundles with shirts, plus digital options are also available!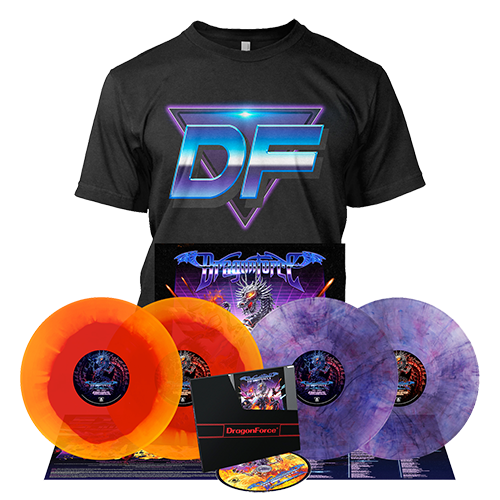 See below to pre-order the album in other territories:
— Europe & South America: https://dragonforce.lnk.to/ExtremePowerMetal
— Japan  http://wardrecords.com/page/special/dragonforce/
Extreme Power Metal track-listing
Highway to Oblivion
Cosmic Power of the Infinite Shred Machine
The Last Dragonborn
Heart Demolition
Troopers of the Stars
Razorblade Meltdown
Strangers
In a Skyforged Dream
Remembrance Day
My Heart Will Go On
—
About DragonForce:
Known as the fastest band in the world, Grammy-nominated extreme power metal band DragonForce is based in London, England. Their platinum-selling record, Through the Fire and Flames, brought them international acclaim and was featured as the most-challenging song on Guitar Hero III. Their energetic and humorous live performances have won them fans on every continent.
The group is known for their long, complex and fast guitar solos performed by Herman Li and Sam Totman, who founded the band after meeting through a classified ad in 1999. Since then, the band has released seven studio albums, including Valley of the Damned (2003), Sonic Firestorm (2004), Inhuman Rampage (2006), Ultra Beatdown (2008), The Power Within (2012), Maximum Overload (2014), and Reaching into Infinity (2017). 2019 brings the next chapter in DragonForce history: Extreme Power Metal!
Regarding Extreme Power Metal, Li says, "This album again combines the best of DragonForce in an even bigger, more epic way than we have ever done before. We are so excited for fans to hear it!" Following the departure of Vadim Pruzhanov from the band last year, the keyboards of this new album was performed by Coen Janssen of symphonic metal titan Epica, bringing a new dimension into a DragonForce album. Totman says, "We worked really closely with Coen on this new album. We are so happy with what he has brought into this new album. Every fan will be so happy to hear his majestic playing!"
Drawing from a wide range of influences, the band's sound combines the sing-a-long choruses of classic 80's rock with triumphant, uplifting melodies and fantasy-themed power-metal-inspired lyrics. As a nod to their passion for all things video-game related, the band frequently incorporates retro game sounds and melodies into their recordings and live shows.
Following the release of Extreme Power Metal, DragonForce will begin their world tour in support of it. Li promises, "In this age, where our music is easily accessible, I am not going to waste time trying to describe the sound of our new album. I'll let the music do the talking! However, what I can tell you is, our upcoming tour will be our biggest in a decade. We have a massive epic production and a really special surprise for VIPs. We can't wait to see everyone out on the road!"
 —
About AUDICA:
AUDICATM is a VR "rhythm shooter" that combines Harmonix's award-winning music gameplay with precision shooting mechanics and a killer soundtrack, all set in a mesmerizing cosmic arena. AUDICA is now available in Early Access on Steam, Oculus Store, and Viveport for $19.99. For more information, visit www.audicagame.com
About Harmonix Music Systems, Inc.:
Harmonix Music Systems, Inc., based in Boston, MA, and established in 1995, is the leading developer of groundbreaking music-oriented video games. Harmonix was founded to invent new ways for non-musicians to experience the unique joy that comes from making music and has pioneered music and rhythm gaming in the US. For more information, please visit www.harmonixmusic.com.
Harmonix media contact:
Dan Walsh: press@harmonixmusic.com
©2019 Harmonix Music Systems, Inc. All rights reserved. Audica developed by Harmonix Music Systems, Inc. Audica, Harmonix and all related titles and logos are trademarks of Harmonix Music Systems, Inc. All other marks are property of their respective owners.
---