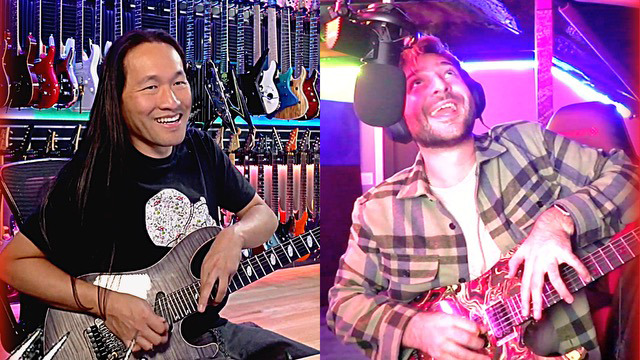 October 13, 2023 (Los Angeles, CA) – DRAGONFORCE previously revealed they're in the process of finishing their highly anticipated ninth full-length album that will be released worldwide via Napalm Records.  Next month, the band will embark on a North American tour with special guests AMARANTHE, plus support from NANOWAR OF STEEL and EDGE OF PARADISE. This trek will see Billy Wilkins handling additional guitars and backing vocals for DRAGONFORCE.
Wilkins caught the band's attention in 2021 when his viral cover their platinum single "Through the Fire and Flames" amassed an impressive 17 million views on TikTok. Founding guitarist Herman Li reached out to Wilkins to collaborate, adding in additional guitar tracks to his cover.  During DRAGONFORCE's last North American tour, they invited Wilkins onstage in New York City to perform the song together (WATCH HERE).  After witnessing the electrifying response from the crowd, the band wasted no time extending an offer to join them for the entirety of the upcoming tour.
"I'm so incredibly honored and excited to be joining DragonForce on this tour!" says Billy Wilkins.  "They've been a huge influence on me growing up and this opportunity is a dream come true. These shows are going to be epic and I can't wait to hit the stage!"
Herman Li says: Billy Wilkins is a super gifted musician. Not only can he sing his heart out, he is also a monster guitar player! We look forward to having Billy on stage, it's gonna be EPIC!
Billy Wilkins links:
https://www.billywilkins.com/
https://www.youtube.com/channel/UCkDobeq976Is_8O1t5nSDfg
https://www.tiktok.com/@willygwilks
https://www.instagram.com/willygwilks/
https://www.facebook.com/willygwilks
https://twitter.com/WillyGWilks
---