PRESS RELEASE
Grammy-nominated extreme power metal pioneers DRAGONFORCE will release their massive new album, Warp Speed Warriors, on March 15, 2024! The legendary band of guitar virtuosos and founding members Herman Li and Sam Totman, singer Marc Hudson, bassist Alicia Vigil and drummer Gee Anzalone are set to release their most ambitious and innovative full-length so far. On Warp Speed Warriors, DRAGONFORCE explore a wider range of varying musical styles than ever before, evolving their sound throughout the exciting musical journey while still staying true to their roots. Today, the band has already served up a taste of what's to come with their new single, "Power of the Triforce", inspired by the Zelda game universe!
DRAGONFORCE on "Power of the Triforce":
"We're thrilled to unveil our latest track, a powerful homage inspired by one of our favorite video-game franchises, Zelda!  We're eager for metal enthusiasts of all tastes to discover something special within its depths. Brace yourselves, as we're gearing up to unleash this sonic adventure live during our upcoming tours!" – Herman Li
Watch the Official Music Video for "Power of the Triforce" HERE:
DRAGONFORCE on Warp Speed Warriors:
"After four years of creative incubation, we are beyond excited to release what we believe to be our most ambitious and grandiose record yet. This album showcases multiple facets of our artistic abilities, and we invite metal aficionados from every corner of the genre to discover something captivating within its layers. We can't wait to share this chapter of our musical journey with you, it's going to be EPIC!" – Herman Li
Breathtaking opening track "Astro Warrior Anthem" lives up to DRAGONFORCE's reputation as the world's fastest band, captivating the listener from the very beginning and stunning with guitar solos delivered at an extreme speed. Following Zelda inspired track "Power of the Triforce" keeps the volume high before DRAGONFORCE temporarily slows it down for the ballad "Kingdom of Steel". Rapid drum patterns and thrilling guitars carry the catchy "Burning Heart", while chanting "Space Marine Corp" features a strong and uplifting chorus. Electronic influences on grandiose power metal anthem "The Killer Queen" hypnotize, as singer Marc Hudson's vocals reach for the skies. On "Doomsday Party", 80s rock influences meet captivating retro video game soundscapes and epic guitar solos in true DRAGONFORCE manner. The last original track on Warp Speed Warriors, "Pixel Prison", is followed by DRAGONFORCE's unexpected yet brilliant cover of Taylor Swift's "Wildest Dreams (Taylor's Version)", that wraps up the epic adventure.
Warp Speed Warriors was produced, mixed and mastered by Damien Rainaud at Mix Unlimited in Los Angeles, California with Sam Totman and Herman Li. This album is a matchless, innovative listening experience that continues the band's legacy with songs that will, without a shadow of a doubt, become instant classics in and beyond the DRAGONFORCE canon.
Pre-Order Your Copy of Warp Speed Warriors NOW: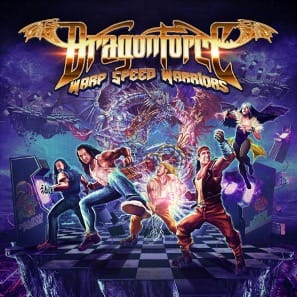 Warp Speed Warriors Tracklist:
1 Astro Warrior Anthem
2 Power of the Triforce
3 Kingdom of Steel
4 Burning Heart
5 Space Marine Corp
6 Doomsday Party
7 Prelude to Darkness
8 The Killer Queen
9 Pixel Prison
10 Wildest Dreams (Taylor's Version) (DragonForce's Version)
Warp Speed Warriors will be available in the following formats:
1CD Digisleeve
1LP Gatefold BLACK
1LP Gatefold Special Colour 1
1LP Gatefold Special Colour 2
2CD Deluxe Box incl. Bonus CD with X bonus tracks + gaming coin + etc.
1LP Gatefold incl. slipmat, record butler
Digital Album incl. x Bonus Tracks
---